Posted in
Education
,
News & Events
|
Comments Off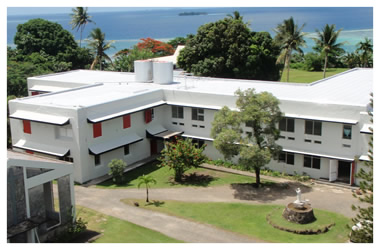 The Chuuk State  School System (CSSS), formerly known as the Department of Education for the State of Chuuk made a decision two years ago to turn the 2-year junior high schools in the outer islands into 4-year high schools without additional resources. While the decision was understandably based on the lack of  qualified teachers in the entire State, it has become a major equity issue for the outer island students. The decision now means that fanapi students are kept out on the fringes of academic and social opportunities found in the high schools on Weno. Yet they are expected to be college-ready by the end of their elementary and secondary education out in the outer islands.
The Fanapi College Preparatory (FCP) is a yearlong charter school for the most academically advanced students from the outer island high schools (Pattiw, Weipat, Pafeng) to prepare them for the academic and social demands of college life. Located on Weno, FCP will enable fanapi graduates who have a strong aptitude for college success to take college-level courses while being provided with academic support services and other hands-on workshops that prepare them for college.
The FCP academy will start with month-long Summer Bridge Program on the Xavier High School campus in collaboration with the Jesuits of Micronesia, Jesuit Volunteers International, the Mercy Sisters, University of Guam, and University of Hawaii-Hilo. Participants will live on campus and undergo a rigorous academic program using the Xavier High School curriculum taught by a team of volunteer faculty with bachelors degrees or masters degree. In addition to rigorous coursework and academic support services, the FCP summer and yearlong academy will include a series of workshops including but not limited to:
 College Success
How to Choose the Right College for You
How to Get a Job in College.
How to Successfully Complete the Free Application for Federal Student Aid (FAFSA)
Managing Peer Pressure in College
Managing Your Budget
How to Write College-level Research Papers
Understanding the Legal System in the United States
How NOT to become Homeless, etc.