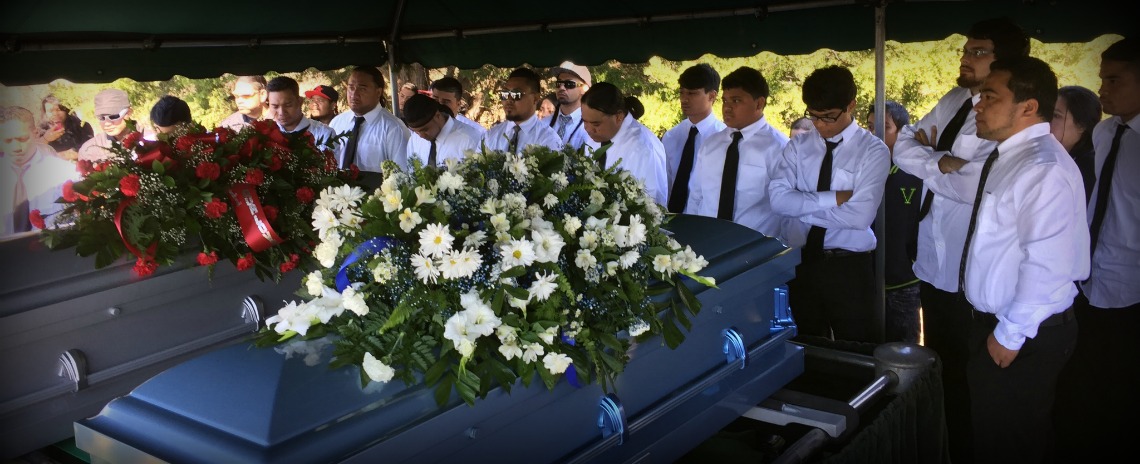 Yesterday, Saturday, February 27, 2016 was a sad day for the Fanapi islanders in Corsicana, Texas and around the US. We buried two of our brothers, leaders in our community: Likichy "Nick" Paulis  (56) and Lorenzo "Larry"  Gabriel (55) who passed away tragically from natural causes 6 days apart. Larry served on the Advisory Board for the Fanapi Foundation representing the community in Texas. Vid Raatior, founder of the Fanapi Foundation, delivered the following eulogy for Larry while Nick's best friend Ruben Manuere did the eulogy for Nick.
Eulogy for My Brother / Mentor Lorenzo "Larry" Gabriel
By Vidalino Raatior
Griffin-Roughton Funeral Chapel
Corsicana, Texas
February 27, 2016
We gather today to say GOODBYE to Larry, our brother, uncle, friend, papa, role model, leader and mentor to many of us.
But I know that Larry would not want us to mourn him but rather to CELEBRATE and continue his LEGACY and the VALUES that he tried to live by all these years he was with us.
Larry would want us to remember him for his POSITIVE SPIRIT (apwapwa). None of us can ever imagine the pain and suffering he endured with his illness since the 80's. But all of us know that he always had that ever ready smile, the charm, the great sense of humor that was always part of his humanity. People were drawn to him for he always made others around him happier, more joyful even as he privately struggled with the physical pains of being confined to a wheelchair, the weekly dialysis.
Larry would want us to remember his respect for our CULTURE (oreni). He never forgot the foundational wisdom passed down from our fathers and uncles; he retained more than anyone I know the lineage taught to us by our mothers and aunties. He always encouraged us especially the young people to know our relatives, respect our indigenous knowledge and cultural practices, and the best that our culture taught us on how to treat each other with kindness, generosity, and self-lessness.
Larry would want us to remember him for his incessant search for WISDOM (mirit). He was among the few islanders who left the comfort of our island Tamatam, left the perks of a chiefly clan, and became a scholar while retaining the humility of a navigator. He taught English at a college in the US, authored articles. He wanted our young people to strive for an education as a way out of poverty and into their own destiny. Larry served with me on the board of the Fanapi Foundation to advocate for our people in the US; being a leader meant for him to be of service.
Larry would want us to remember him for the love he has for his extended FAMILY (aterenges). All of us here today and those back home from Texas to Tamatam, Tennessee to Onoun, from North Carolina to Lepukos, Hawaii to Guam, from Missouri to Oregon, from Chicago to California. Larry loved us very much. He was the voice of our elders from home who have preceded him to Weilang. His love bounded us together.
Larry would want us to remember him for his love of the HOMELAND (tongen lepopwun). The last time he stepped foot on the shores and reef of our island Tamatam was in the 90's. Yet he always carried the love of that small island in his heart. For those of us who have traveled far away from our homelands, Larry role modeled for us the courage and attitude of a master navigator (paluwlap), always doing the right thing for the crew in his canoe.
Lastly, I agree with my nephew Andrew Elias when he posted a few days ago on FB that this song, "My Homeland" by Daniel Rae Costello, one of Larry's favorite will never be the same. As we move on with our lives, let us try to carry on Larry's memories through our own lives of positive spirit, respect for our culture, search for wisdom, the love for each other, and to be good ambassadors of our homeland…wherever homeland is to you.
Oule kemwarhukami rewe mwaan kaan nge oute kan likitikemamlo. Loren rewe you are and will always be my inspiration, my homeland.