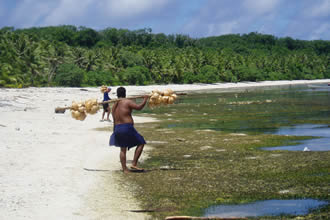 Using the strategies for social entrepreneurship, the Fanapi Foundation supports the efforts at the Fanapi Center to create and manage sustainable revenue-generating business enterprises that provide economic development opportunities for the people from the Northwest district while generating revenues that circulate back into the Foundation's services and programs for the people. We also support the Center's long-term goal to become a local field partner for Kiva and other globally-based microfinancing organizations to fund promising Fanapi entrepreneurs to operate successful small business enterprises in the community.
Atawe Store
The Atawe Store is a public-benefit business at the Center which will sell goods that are specifically useful for outer islanders. The inventory will include but not limited to these items: fabrics, school uniforms, tools, rice, canned food, fishing equipment, solar panels, inverters, water pumps, flashlights, axes, canoe sails, etc. Fanapi islanders living in Guam, Hawaii, U.S mainland, and anywhere in the world can create credits online using the Fanapi Funds services (see below) to send money  (remittances) to relatives at home, pay tuition for relatives in school, or purchase merchandise at the Fanapi Store to be picked up by their designated relatives in Chuuk.
Fanapi Funds
Fanapi Funds are electronically wired remittances from outer islanders living abroad in Guam, Saipan, Hawaii, the U.S. mainland and anywhere in the world using the latest computer technology to securely transfer funds to relatives in Chuuk, create credits at the Atawe Store for their family and relatives to buy needed items.
Fanapi Handicrafts
Fanapi handicrafts specifically made by hands in the outer islands using traditional artform. The goal is to encourage the perpetuation of our traditional skills while generating income for the artisans. Products will include weaved mats (heki), baskets (rhukun kap), hats (akaw), seashells (apwil), paddles (fatul), ropes (haal), canoes (mannew), pounding stones (pwo), and other products. Local artisans would create the products, sell them to the Atawe Store and the store would sell them with a little profit for the Foundation. An online store will be created on this website to enable the global community to buy these locally-produced crafts.
Microfinancing
The Fanapi Center will partner with Kiva (www.kiva.org) to serve as a field partner for micro-financing loans from the global community to enable outer island entrepreneurs to operate small businesses, fund educational scholarships, enable research initiatives, and improve healthcare services.
Internet Café
An internet café will be established at the Center with internet-connected computers and a coffee / snack bar where Fanapi youth can learn on-the-job training. The café will offer a place for Fanapi youth to study, check emails, do online research for free and rented to non-Fanapi users.
Technology & Innovations
The Fanapi Center provides training opportunities in web technology to give fanapi islanders the tools to operate their small online businesses and succeed in today's world. A team of Fanapi college students at the College of Micronesia will be trained to design websites for companies and organizations that are willing to pay for these services. Proceeds from these web design projects will go toward scholarship for the student web designers with a small percentage to benefit the Center.